Part 3 (and conclusion): When Things Go Wrong or I am the CEO
I was on my way to the airport.
"Steve, Mike Gatty," I said into my iPhone, "I'm on my way to the airport in Baltimore. Are we confirmed?"
Steve hemmed and hawed a few minutes. "Well, you have to understand, Honda isn't exactly sure what they want to do, but, yes, we are confirmed."
"OK, I just want to make sure — I don't want to get to Las Vegas and have anything to shoot."
"No, I know. We're good. Oh, but we'd like to setup today."
I rolled my eyes. Sigh. "Well, I'm flying. I land at 2 pm. I can stop by the storage unit and then meet you at the Mandalay Bay."
"OK," said Steve, "That's a little tight — setup is until 3 I think."
"We'll make it work, it's all I can do."
"Ok."
I landed in Las Vegas, grabbed my luggage, rental car — National, because I'm a travel pro — and hit the storage unit. By 2:30 I was heading to Mandalay Bay, across the street. I called Steve; he connected with me Ashley. "We'll meet you at the convention door entrance with a cart," said Ashley.
I pulled up. There was Ashley. There was a flatbed cart. There were two BIG guys. They loaded all the equipment: printers, lighting trusses, computers, camera bags — all onto the cart. I trotted, empty handed, behind.
I felt like a big shot.
We went in, I sat up, tested everything. Life was good. I shook hands all around, and said I'd be in early the next morning — two hours ahead of the shoot — to test everything again. Then we'd get started.
It was a simple enough shoot. Take pictures of participants inside the back seat of Mario Andretti's two seat Indycar, and print the photo. The convention was one of different Honda Dealers, I think, across the country. We'd go for about three hours, then break down, and I was done. We were scheduled to start about 11am the next morning.
I arrived at 8 am. Partly because I'm always super early, and partly because I was on East Coast time. I unpacked the equipment I don't leave at the shoot location — cameras, computer, etc., and fire everything up. I look over. The laptop's not on. I hit the power button again. Nothing. Not a light, not a whir, nothing. I poke it a few times. Nothing. Unplug the power cord, plug it back in, make sure the electric is running, nothing. Take out battery, wait, put back in, heart pounding. DEAD COMPUTER.
It was a new Asus big-ass laptop, a Pentium 7 with 8 gigs of RAM, it was my new baby. It was also still born. I called Asus, thinking maybe, just maybe, I was missing something.
"Sir, you'll have to send it in for repair under warranty…."
Well, shit. That wouldn't help me now. No laptop means no prints. No prints means angry Ashley. Angry Ashley…I shudder.
I pull out my second, backup laptop, reconfigure everything to fit the shoot, and fire a test print. All is well. By that time, it's about 10:30 am, plenty of time, but I'm nervous. Steve Madden and Lou Ferigno are never far from my thoughts.
The shoot starts to wind down without incident, much to my delight. A guy slips past me, and climbs into the front seat of the two seat race car.
"Sir, I'm sorry," I say when I spy him, "but they've asked me to keep everyone in the back."
The participant smiles. "No problem, " he said, and started to climb into the back.
Ashley came swooping over, like an eagle pouncing on a fish. "Mr. __________, you can sit in the front. No problem. Climb right in there."
I was amazed. Ashley runs a tight ship. She didn't let ANYONE in the front.
"Sir," I said, "you should be totally impressed." I lowered my voice, "Ashley has let NO ONE sit in the front. You should feel like the freaking CEO of Honda."
The man looked up at me, pleasantly, and smiled. "Ummm," he said, "I am the CEO of Honda."
"Oh," I said, "well climb right in that front seat, then."
After the shoot, Ashley came up to me.
"Wow," she said, "that went great. Not a hitch! We'd like to talk to you about a few more projects we have going on."
I smiled. I sure as hell wasn't about to say anything about the backup computer. Some things are better left unsaid, even after the shoot.
***********************
Of course, the projects Ashley wanted to discuss with me became our participation in the Indycar Races. All the domestic races, nationwide. It became my biggest contract. And, that contract is now in its second year — with the addition of HondaJet and the OshKosh Air show. All grew from this shoot.
And I always stop to wonder: what if. What if I hadn't had that second computer as backup? What if the two disasters of Lou Ferigno and Steve Madden hadn't happened, but those lessons waited to be learned with Honda? I can tell you what if: I would never have known, for the lack of a $1500 backup computer, that I'd lost at least two years of major contract. It would have evaporated in front of my eyes, veiled, poof, gone.
And, Ashley? She's the only client, ever, to meet me at the door with a cart and two guys to help haul. That may not sound like a big deal, but it is to me. From the beginning, I understood that I was joining a team, set to make this event successful, with a client as hard working as any I've ever seen.
I'd called home that afternoon, after the initial setup.
"Hi, honey!" I said.
"How's it going, Mike?"
"Wonderful! This is the most incredible client. She met me outside Mandalay Bay with a CART and TWO GUYS."
"How cool is that!" Matthew said, understanding, "See, everything is OK."
Yup. Everything is OK. In fact, everything is incredible.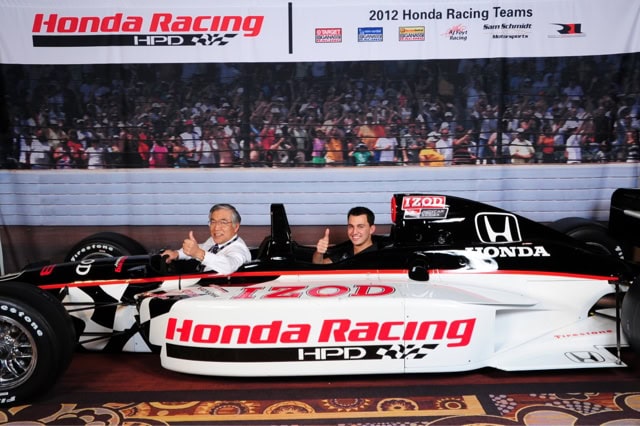 Melanie just emailed me this photo. That's him in the front. 🙂