The Cheapest of Knock-Offs.
By now, if you read my little stories, you know my shtick. You know I am — let's use the nice word — creative. Artistic. Unique. Or weird, you pick.
And when I started out as a photographer, I didn't expect to be the one strolling into a Rolls Royce store and ordering up the newest model. Money has never been that important to me — it's always been about doing what I like to do, my own way, to my own beat. The fact that I think I'm good at it is nice. The fact that I've ended up making a decent living is nice. But those are side benefits. What's really important is that, when I get up to go to work in the morning, I am happy. And, I am me. I am my own unique brand.
But how do you measure success? You have to be able to pay your bills, that's true. To buy new equipment, to do what you want to do to make the business grow. Those are all measures of success, and maybe the most obvious. Of course, I'd argue that the fact that I LIKE what I do automatically makes me successful.
But just this morning, I had a slap in the face that said, "(whack, whack!) BOY YOU ARE A ROCK STAR!"
No, the waiter didn't ask for my autograph and say he recognized my card board cut out of Mario Andretti as my most famous work. Instead, I was eating one of those free Hilton breakfasts for Diamond and Gold members when Melanie Facebook messaged me about starting her own personal page and tying it to our Nevada Event Photos Facebook Fan Page. (OHHHH, and go "like" us on that, cause, apparently, I should be getting you to like us. You like us, right? I say my daily aspirations in the mirror every morning.)
Then she left the bomb drop. "Who is ________________.com?" She wrote.
"A competitor." I messaged back, "Why?"
"Well," she said, "why, when I type in YOUR name with a .com after it, does their web site come up?"
"I have no idea," I said, "WTF?"
And it's true. A competitor took my name, registered it as a .com, and pointed it to his site. Then, at the very bottom of the page, he says, "this site is not affiliated with Mike Gatty or US Event Photos."
AND WORSE: the photos he has on this page as examples of his work (my work?) feature two women pony riding each other, while one spanks the other's ass. I couldn't make this up. And, the photographer? Some, ehhhem, heavy set gentleman dressed all in polyester photographer's black.
Now, let's dissect this. First, he uses my name to drive traffic to his site. Then, he has a mildly pornographic photograph of two…women… getting it on in front of the green screen. And, the worse sin? He has a photographer (who is supposed to me) DRESSED IN BLACK POLYESTER! And, the photographer — me — is a guy that should buy two seats on Southwest when he flies. I WILL NOT SLEEP TONIGHT! Must. Go. To. Gym.
But there is another take on this — slip up. Does my competitor think I am so famous and successful that people are going to take my name, add a .com, pull up his site, and then hire him — thinking they are getting me (despite the fine print)? Does he really think that? And, what happens when they realize they aren't getting the brand that is me? What then?
Way back when I first started the business' web site, I kept changing the name as I learned more about how Google and search engines work. It went from "Photologistics" to "DC Event Photos". Then, a few years later, to "US Event Photos". Why? I wanted the web name to reflect what we, as a company, did. I did not want the business to be all about me, but rather, all about the company.
But I made a mistake. When I registered the domain name, DC Event Photos, I didn't realize that Ben Zweig had registered his site as "DC Event Photo.com", no "s". Literally, we registered the domains within months of each other. Later, when I realized what had happened, I called Ben and talked to him. He wasn't thrilled, but he understood that it was a mistake. Then, when people contacted me, and I started to realize they thought they were talking to Ben, I corrected them and sent his contact information. Last, over the past few years, we've worked together on several projects — and have plans to do more. What could have been a contentious relationship has turned into a great friendship. In fact, he's even written very nice things on my LinkedIn. The feeling is mutual.
But clearly, an honest mistake is not what happened with my black polyester clad fat competitor. Sigh. So, if you are looking for me? I'm the one dressed in natural fibers with a blonde mohawk. I don't exactly blend, and I'm not easily copied.
Copying my personal brand is a bit hard to do; good luck with that. Don't you get it? Don't you see it, Mr. Black-Polyester-Clad-Fat-Photographer? I am successful because I am me. Be you, and you'll be successful, too. Be a fake Gucci, and you'll be hawking your photos for a cheap price on the street corner, while people try to wonder if the pleather band will stretch or not.
So bite me synthetic fabric dressed competitor. I guess I must, yet again, change the name of my web site. Maybe: Http://www.MattDamon.com. Yeah, that'll work. I like it.
UPDATE: he took the URL down. It now says "forbidden, you don't have permission to access this page." (Irony: Mike Gatty can't access mikegatty.com) So, one small victory. Now, if only my waiter will ask for my autograph, I know it's gonna be a good day! Perhaps I shouldn't post this blog entry? Nah, it's a good story. And it's true. Trust me. Or ask Melanie, who is busy registering "melanierose.com" as I write this.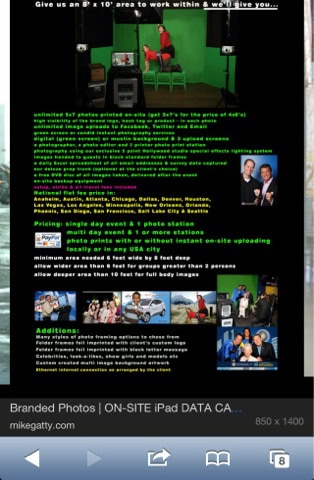 Ha! I found a screenshot to prove what I say! I thoughtfully cropped out the offender's name.