Travel Rule #2: The Front Desk Agent has POWER
As some of my more loyal groupies might know, we shoot all the Indycar races, nationwide. That eats up about 1.5 MONTHS out of my schedule of solid travel, setup and shooting time. That doesn't even account for weekends, if you look at just "work" days . So, it's a major contract for us, takes Matthew and I all over the US, and is fantastic for business. But, as you can imagine, it's not all a bed of roses. There are the hotels.
Hotels book when large events come to town. Sometimes, they overbook. This, despite the fact that they are charging 2 to 3 times their normal rate — a Holiday Inn, let's say, in — ohhh, let's pick an arbitrary one — MID OHIO, MANSFIELD TO BE EXACT, will charge not $100, not $200, not $300 bout $450 per night. The normal cost of the room? About $80.
So, you say, more fool, you. Go on Hotwire. Go to a non-branded motel. Why pay as much as a hotel overlooking Time Square for the privilege of staying in Mansfield, OH with a view of the McDonalds?
I followed that advice once. The first year we did the races. Matthew and I pulled up to our hotel in Mansfield, OH — "The Mansfield Inn" — and I would not get out of the car. I'd booked the "hotel" on Hotels.com. The reviews weren't bad, and it was about 20 minutes from the race track. That may sound like a long distance, but it was one of the closest properties to the rural venue. I would not get out of the car because three windows were boarded up on the ground floor, a police car was parked out front, and the entire "hotel" looked like The Best Marigold Hotel In the World less the pretty flowers and Indian charm. I called Hotels.com from my car.
"Tough toenails, sir," said the not so helpful phone person in India, "you're stuck. No refund."
OK, perhaps that's not EXACTLY what they said, but that's the gist of it. I didn't care, I was not getting lice. I went BACK on HOTELS.COM, not learning my lesson, and booked at a hotel I lovingly call the "Comfort Cozy Inn."
The Comfort Cozy Inn was paradise compared to the Mansfield Inn, but it was nearly 45 minutes from the track. Which is why it wasn't booked solid. I didn't care. I made the reservation, we drove to the property and…
IT WAS BEAUTIFUL. Each room a different bi-level suite, the focal point was a whirlpool bath on the first floor in the middle of the living room. OK, that was a bit dated, but I didn't care. They even had effervescent bath beads to compliment the soaking tub. I love a good bath.
On the down side, it was a bed and breakfast, and I really don't like bed and breakfast properties. Why? I don't want to talk to anyone in the morning. Mom and I stayed in one at the start of my career , and the caretaker, Moaning Myrtle, drove me nuts. But that's a story for another day.
Oh, and price of Comfy Cozy Inn? You guessed it! About $350 a night. But at least it was clean…
Not so much. Apparently, they didn't think it important for this rate to make the bed, service the room in any way, or clean the hair out of the jets in the soaking tub. And when you asked why the room wasn't cleaned? The front desk agent burst into tears and said they just had soooo much work to do, it was overwhelming. True story.
I chose to overlook all of these issues. I liked the place, it was pretty. Matthew, however, was driven insane and refused to ever set foot on the property again.
So that's how it came to be I was perfectly happy spending $450 / night at the Mansfield Holiday Inn, overlooking the McDonalds. There is a reason chains do well.
WHAT DOES THIS HAVE TO DO WITH TRAVEL RULES?
Here it is: Mike's Travel Rule #2: Hotel Loyalty Awards
Pick a hotel chain you like, preferably a big one. Hilton, Starwood, it doesn't matter so much. Avoid Marriott — remember THE WORLD'S SUCKIEST 5 STAR HOTEL. But that's just me. Then, grab up their credit card associated with that chain. Next, stay in one of their brands whenever possible.
While hotels may charge 4x the going rate during a special event, the amount of points it takes to grab up a free room doesn't change. That means, if you have a bunch of Intercontinental points (Holliday Inn), you can get that $80 equivalent rate on your points and stay without the surcharge. More importantly, when you check in, and you are Gold, Diamond, Platinum, whatever the highest level is…you get….
"HELLO MR. GATTY, I see you are a Platinum member. We've upgraded your room to a Jr. Suite, I hope that's OK." Meanwhile, the person directly in back of you, paying $450 a night, gets,
"Ohhhh, MR. SMITH. WE ARE SOOOO SORRRRY. There has been a TERRIBLE mistake! We are overbooked! We don't know HOW this HAPPENED. But, we have moved you to a comparable property around the corner…"
That comparable property? A Motel 6 next door. This versus the Hilton Gardens you'd booked at. Comparable is in the eye of the hotel's owner — in this case a Franchisee — who also owns the hell hole next door with poorer standards.
Hotels routinely book at 10% over actual capacity, figuring on no-shows. But, if everyone-shows, someone must get bumped. Who gets bumped, or "walked" in industry lingo? Those paying either the cheapest rate — HOTWIRE — or those with no standing in the frequent stay program. Who gets upgraded because the standard king they booked wasn't available, but the King Suite was? You guessed it: Mr. Platinum. Me. So, enjoy your Motel 6, I'm having Champagne in front of the fire in my room.
I mentioned the credit card tied to the hotel chain. That's just a way of racking up points. And they rack up quickly. Of course, the interest rate on these cards is higher– like any rewards cards — but tell me that is important as you are walked on your next stay.
I actually plan this out very methodically. I know exactly how many stays I need in a given chain to maintain my highest level status. That way, I have three major chains to pick from, all treating me as their primo customer. Of course, I spend 3/4 of my life in hotels, you may not. But one will do.
There is one work around to the above scenario. TIP THE FRONT DESK AGENT. A $20 will do the trick. It can be a bit awkward with a less sophisticated hotel, but usually goes like this.
"OMG, Hi, I am Mike Gatty, checking in. I AM SO TIRED, IT WAS TRAVEL DAY FROM HELL. Look, I know it's a busy race week, and you are totally booked, but I just need a little extra TLC. Here's $20. Can you make sure I get the care I need? Just put me in a nice room (a suite if you should have it), deliver up a few pillows, and make sure the maid gives me extra coffee? I know, I know, you do this for everyone, but, trust me, being on your care radar is worth this $20."
This works particularly well in Las Vegas. I scored a $69 suite with a private elevator, costing me $89 total — A PRIVATE ELEVATOR.
Whatever you do, if you do get walked, remain calm. Do not yell or throw a fit. Just then work the same routine, but for the new hotel: and now you have extra clout. You can at least get an upgraded room, probably a suite — if one exists in Motel 6.
Tomorrow: Restaurants. Mmmm…mmmm…good.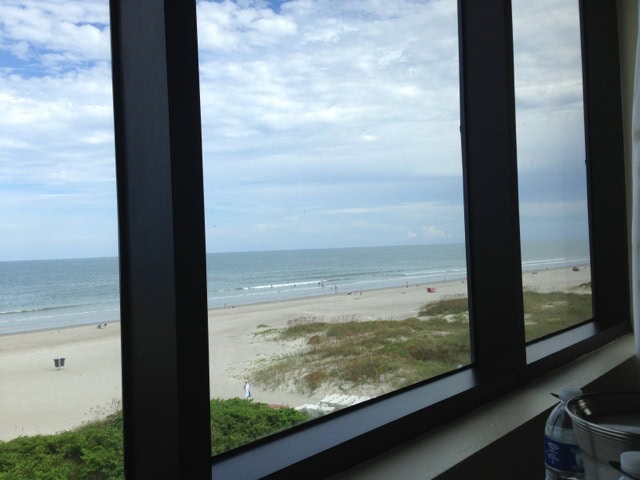 View from my hotel today. Corner room, ocean front, Hilton, Cocoa Beach, Fl. Same price as a standard room– for me. Hilton's reward program is one of my two favorites.