Earthquake, Wall of Fire, and 3000 Dentists
This year's busy season (which stretches from mid-February to Thanksgiving) is winding down. A few shoots left, and the year will wrap.
Tornadoes. Ice chunks falling from the sky. Severe thunderstorms. Locust. Drizzle. Wall of Fire. Earthquake. Even tsunami warnings were all part of this year's photo executions which spanned from coast to coast.
You haven't lived, I'm afraid, until you've had this phone conversation, which I had, directly after the Sonoma IndyCar race — and the largest earthquake in 25 years, whose epicenter hit 2.5 miles from my hotel.
"I'm just not sure you have the experience to handle an event of this size," the potential client said of her 3,000 person conference.
My snarky mini-me, who, as readers of this blog know, suffers from incurable Turret's syndrome, started shouting in my head…
"WALL OF FIRE LADY. WE'VE SHOT GREEN SCREEN DURING A WALL OF FIRE. EARTHQUAKE! WE'VE SHOT GREEN SCREEN AFTER THE LARGEST EARTHQUAKE IN 25 YEARS. I THINK WE CAN HANDLE A GROUP OF, WHAT IS IT? 3,000 DENTISTS?"
Sigh. I did't let mini-me say anything, but gave a nice (boring) corporate response.
The client didn't hire us. I suspect if mini-me had been unleashed, we'd have landed that convention of 3,000 dentists.
You're probably thinking, "Mike, Wall of Fire? Really? Locust? Are you crazy?"
Yup. I am. But let's start with the Wall of Fire.
****
The sun began to set on the fifth day of AirVenture 2014, the world's largest air show, held annually in OshKosh, WI. Because, as we all know, OshKosh isn't just for children's clothing! No! In aviation circles, it's seconded only to — well, there is no second. It's first by a mile.
Our client, for the second year, was Honda Jet — and we had two photo executions happening simultaneously: a #hashtag photo printing event, and a green screen with live upload to social media. This year, as in year's past, AirVenture conflicted with the Mid-Ohio Indycar race, so we actually had three major executions happening during that 7 day period. Last year, I left AirVenture to cover the green screen Honda Indycar photo execution, so I missed the Thursday evening AirVentur air show.
And, nobody thought to mention it.
"OK! Now, give me a thumbs up!" I prompted, for probably the 3,000th time during the course of the week, "ONE, TWO, SEVEN…."
Suddenly, the back of my legs glowed warm. An orange hue filled the posh Honda Jet tent, and a sonic style boom echoed across the airfield.
I turned. A wall of flames stretched 10 stories high, from one end of the airstrip to the other. At first I thought a plane had crashed. Then two WWII style bi-planes flew from the flames, and I realized it was all part of the show.
But, for the briefest of moments, I was terrified. Finally, My heart resumed pounding. I turned back to the execution, and said,
"OK! Who's next?"
*******
The busy season was just underway with the St. Pete's IndyCar race, when the race area was evacuated due to a line of approaching, dangerous, severe thunderstorms. We evacuated, securing the equipment, and after a four hour delay, were able to resume our photo execution. But not before the area was pelted with hail, and a tornado warning finally expired. Lightening hit not far from Fan Village.
*****
Fast forward to the Birmingham, AL IndyCar race, and another set of tornado warnings, but this time, I was with Mario Andretti and his team, holed up in his trailer on the track. The rain began, harder than I can ever remember, and accumulated on the surrounding pavement, so deep the golf carts could barely pass. We weathered the storm comfortably in the Fastest Seat in Sports trailer, but the Verizon tent, just across from where Matthew was in the Honda tent, wasn't so lucky. It caved in from the center, on top of the Verizon team. Luckily, nobody was hurt. Shooting didn't resume that day.
****
Next stop was Detroit, a lovely vacation spot in the best of times, it's particularly beautiful for the Indy races. Though — well, except for what we lovingly dubbed the swarms of locusts. More commonly known as mosquitoes. So many, in fact, that the top of the tent was black with the little vampires. The team trudged on, smiling, and finished the race on a stunning 80 degree day with a light breeze.
****
And, of course, Sonoma. At about 3 am, the day of the Sonoma race, Matthew and I were shaken out of bed by the largest earthquake to hit the area in 25 years.
We woke, neither of us totally sure what was going on. Now, as I tell it, I awoke totally calm, in a serene fashion, and said rather Spock like:
"Logically, Matthew, it's an earthquake," in response to his near panic question of "wha????!"
As Matthew tells it, however, it's just a little different. I awoke flailing around, slapping my hand over his face and shouting, "EARTHQUAKE! EARTHQUAKE!" Somewhere in the middle is the truth. The middle, of course, being my version of the events.
By the way, the earthquake triggered a tsunami warning for the coast of California, so that counts in my litany of natural disasters — though, of course, there was no tidal wave. There was, however, a horrible sense of doom that settled on the area when it was learned many vintage barrels of wine were lost to the disaster.
Now that we're heading into winter, I fully expect to be called onto a job — say, a bob sled competition — where there is an avalanche. Special rates are now available for any event with the possibility of completing my year of the apocalypse.
No. Not really. I hate the cold. I think I'll enjoy the slow time and sit next to my new pool sipping (now more expensive) California pinot.
Post script — I'm really hoping this bumpy plane landing during this "light chop" isnkkkk aaaaaaaaHHHHHH!

The great flood of 2014 Birmingham.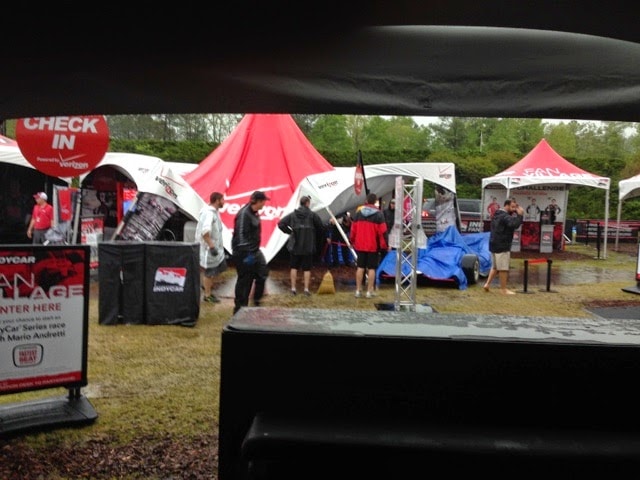 The Verizon tent wasn't as durable as this week's tent in Houston: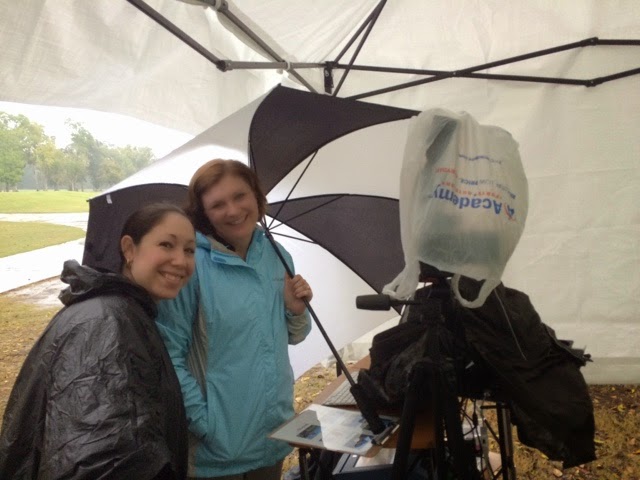 This week's golf event / Houston. Houston, we don't have a problem! Just keep up those umbrellas!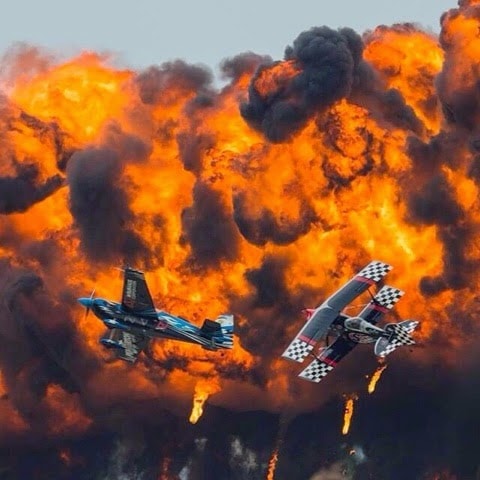 The wall of fire, OshKosh
Matthew shops for our 1,000 umbrella in Mid-Ohio
The final day of OshKosh. Note the blue dot. That would be the Team.
Mario Andretti was interviewed on national media about the Earthquake. Here's the photo they ran with the story. Someone should tell that clown in back of Mario he needs to not photobomb the picture. Wait…. Without the hat….that could be…
And finally, this year's travel as of two months ago. FCO is looking pretty good!