What makes a hotel suck?
What is the perfect hotel? Cheap? Lux? Family oriented?
I travel for work — I travel a lot. I'm platinum with Starwood (Sheraton) Hotels, Gold with Hilton. Hell, I'm even Gold with La Quinta.
Typically when I travel "upgrade" is my favorite word. "Would you like to upgrade to business class?" "Hell yes." "Would you like to upgrade to a suite?" "Is the sky an off white shade of grey today?" "Would you like to valet? A bellman to help you with your luggage?" "Of course. Unless you want my car permanently in front of your hotel, with my luggage still strapped to the roof."
Sometimes, though, despite the upgrades, despite the bellman, and even with the help of the valet, the hotel sucks. I mean, drink 3 glasses of wine before you can possibly shut your eyes for fear of the bugs attacking you sucky.
That is the case tonight. My glamorous life. Travel for work, jet here, jet there. Room service. Hotel dry cleaned clothes. Comforter thrown on chair because it's gross. The same long, black hair in every bath tub between here and California. A $50 dinner that's mushy trout. Carpeting the same color as dirt so none shows. A bed with a valley in the middle. Pillows half the length and 1/4 the thickness of anything sold by Walmart.
A hobby has become reading the reviews on Priceline. My favorite are the reviews of the 1-star, under $99 per night (way under). The complaints always range from lousy "free" breakfast to rock hard pillows. My favorite was one review that complained of gang graffiti spray painted in the refrigerator. (There was a refrigerator?)
Hello! It's $50 a night. What do you expect? But what about when it's five times that price?
As is the case tonight. In the heart of the Pocono Mountains for an Indycar race, it's the same price (currently) as a lux hotel in Philly on a weekend night. At first I thought it was equivalent to a bad Holiday Inn. Then I thought "Ramada". Now I'm thinking bad Days Inn.
I expect a hooker to knock on my door shortly. And, no, not because I called one.
Though I might. Though I might. Just after the wine.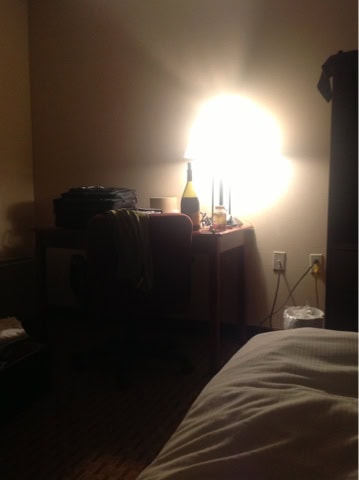 Afraid to sleep, the big bottle of wine is necessary….