Customer Loyalty The Rock Star Approach: Part 2, Mario Andretti
For part one of this series, I recycled a rambling story about how I came to do so much business with Starwood Hotels — something like 1/5th of every night I have on earth is spent at a Starwood branded hotel. Since 2006, I estimate I've spent $70,000 in their hotels. (Yes, smart ass, that number is higher than last reported. I have stayed in a few expensive hotels since then. Bite me. This is what happens when you travel constantly. Even the blog can't keep up. And about recycling ONE post. Double bite me. I saw an opportunity and I took it.)
And why not? When in Rome at the St. Regis, they upgraded our room to a suite. Those of you who are loyal readers know what that means: I had a butler.
"Hello," you say into the phone (by way of instruction to you Duck Dynasty viewers who have never HAD a butler — or a shave), "coffee service for two, please!" And in he (or she) comes, tuxedo and tails, white gloves and silver tray — with your coffee, tea, cookies, fruit. It is decadent. ( I quickly told the butler I was not a rich American. I wanted to pick his brain. "Who usually stays in these suites?" I asked him. At a rate of $1500 a night, I wanted to know. My rate, btw, was about 10% of that. Answer: Saudi Royalty. THAT resulted in me jumping up and down on the bed (after the butler left the suite — and carefully, I'm getting old) yelling, "I'm sleeping where a Saudi prince slept! Where is my her-rem?")
So, Starwood built a loyal customer with me (even if they forgot my key card for the her-rem)-– but how does a photographer do it? What makes clients call and book again and again? What causes them to say, "I have the best photographer, he'll handle it"?
First, you must be viewed as the expert, and to be the expert, you must develop your niche.
When you are an expert, the client has no worries. They can hire you, and forget about it. They can scratch that worry off their list. It's now in your capable hands. It's done.
This weekend, though, I found myself outside of my comfortable niche. This weekend, I found out what it's like to work in an area that feels as foreign as me in that her-rem. (I need a his-rem.)
(AWKWARD)
*****
This is our third year with Honda conducting
green screen photo executions
at Fan Village for all IndyCar races, nationwide. For those of you not familiar with racing, the event isn't just one day. Oh, no!
(Toure
tte's Note deleted) First you have qualifying rounds, then practices, then other races, then the big event. Usually these go on for three days — or more.
For us, that means work days that start before dawn and end after dusk. It means seeing thousands of people, dealing with every type of weather thrown our way, handling technology in outdoor locations — it is a specialty.
But Honda is a great client, and this year, they asked me to do some special promotional photos down on the track. I get a special, pretty vest marked PHOTO and a "hard card" that gets me in EVERYWHERE. (The vest could fit a 700 lb. man. Who designs these things? Oh, yeah, the double-seat guy on the plane next to me.)
What promotional photos am I taking? By way of explanation: The Fastest Seat in Sports contest is the ultimate give away for the racing enthusiast — if you win, you get to open an IndyCar race with a famous driver. That means, you sit in the back of Mario Andretti's two seat race car, and Mario (the legend) DRIVES. At the start of the race, with Mario at the controls, you pray, and then shoot off like a rocket at the front of the other race cars. You go a lap or two, then Mario pulls off and the race (finally) begins.
I think he drives, what, 140 mph? Something like that. I did it once. I nearly peed myself. (Actually, I loved it. Except I was totally afraid my head would splat like a melon on the side of the wall. Who puts those walls so close to the cars? It's DANGEROUS.)
Anyway, besides the contest — which is once a year — other participants ride with Mario. Usually a VIP or a celebrity, they are in back, Mario in front, and off they go.
My job is to capture the publicity photos of the participant with Mario, photos of the car on the track, etc… It's the "etc…" that always gets you.
"Now," said Ashley, "I want a shot of all the guys lined up in back of the car, pushing, right as the car takes off. Just make sure you jump out of the way at the last minute so you don't get run over."
…..
………
………..
Oh, boy. Why, exactly, did I leave the nice, safe, tent where we do green screen? Why? To risk getting run over!?
Seldom do I feel awkward, like a beginner, during a shoot. But here's a dirty little secret — I've never actually watched the start of a race. I didn't know precisely when to jump. As it was, I jumped too early, and didn't get the shot I wanted.
Why? It's not my area of expertise. It just isn't. But, that's ok — I'll make it my area. Give me a race or two, and I'll be lying in the middle of the track, camera in hand, figuring the drivers will go around me. (Security may be hauling me out by my feet, but I'll kick. They, by the way, are MEAN. So are the other photographers. I forgot how mean they can be. I'm usually 1) in charge and 2) in charge.)
Why the hell did I sign up for this additional work? After all, it has nothing to do with green screen photo executions.
I want Honda to view me (and my company) as indispensable. I want them to think "IndyCar" and "
US Event Photos
" together, at the same time the neurons fire in their brain. I don't want to give another company an opportunity to wheedle their way in. I want to do everything I can to make myself indispensable to the client.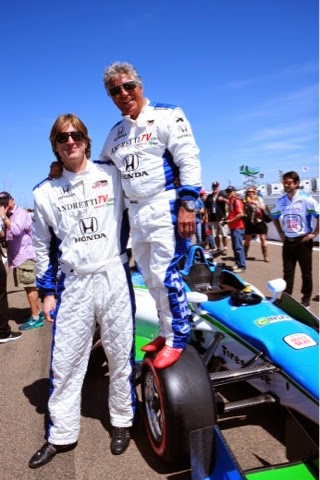 Becoming indispensable is the best way I know to build loyalty.
Becoming indispensable — and forcing your head to nod "yes" when your heart is screaming "hell no". Let me tell you, as I'm standing in front of the Mario Andretti's two-seat race car, with all the other IndyCars lined up behind him, engines revving, fans watching by the thousands, all I want to do is say:
"GENTLEMEN, WATCH THE PHOTOGRAPHER!"
(Bite me, I'm going for Starbucks.)
Instead, not only do you have to figure out how to get what the client wants, how to take the photo itself (think glaring sun, shiny cars), but you have to know — somehow — when to jump out of the way.
All in an effort to build loyalty.
The rant will continue….
Mario Andretti (for those of you not into racing, he's standing on the tire) and this weekend's ride-along participant. Taken trackside in St. Pete's, FL for the opening race. Technical note: thank God for flash fill.
Why couldn't Ashley just want this nice, safe shot?
What we normally do. See the pretty, safe, tent? That's Matthew, my partner. How lucky am I?
One more thing. Remember yesterday's rant? Here is the photo from my St. Pete's hotel…
And, here, tonight — in San Antonio — is the suite I was given by Starwood at the Sheraton Guntner.
Cost? THE SAME.